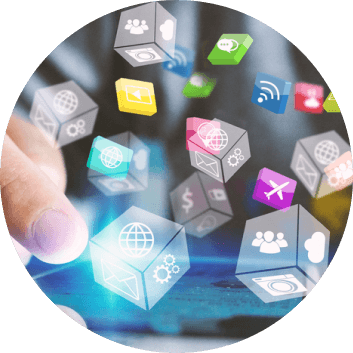 What is Social Media Marketing?
It is known as an effective digital marketing strategy that takes the help of social media platforms, like Instagram, Facebook, etc., to promote your businesses, products, and services. With the help of social media marketing strategies, you can easily target your audience.
The main objective of social media marketing (SMM) is to enhance brand visibility and awareness to foster good relationships with customers.
The BrandStory social media agency Abu Dhabi team specializes in offering an exceptional range of services. You just have to tell the primary goals of your businesses, and our team will make it happen.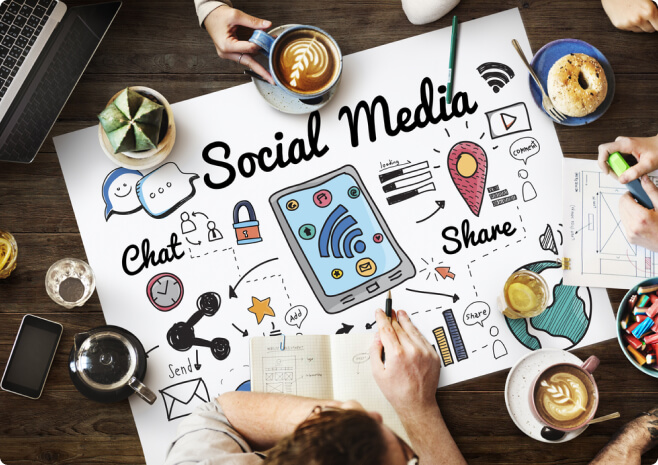 Why do Businesses Require Social Media Marketing?
Nowadays, businesses are getting more dynamic with each passing day. Social media marketing is an important component of the complete marketing strategy. For enterprises and brands, it is a way to provide greater visibility to your target audience. It allows for direct and real-time engagement with customers across the globe, fostering meaningful relationships and building trust.
The social media marketing Abu Dhabi team runs targeted advertising campaigns to reach your real audience with great precision. All this helps in optimizing marketing budgets and maximizing ROI.
Furthermore, social media marketing helps drive website traffic and makes the right content reach the right audience. It enables data-driven insights that can help in making good decisions. In today's digital scenario, social media marketing is not just an option; it's an essential part of any successful marketing strategy.
Our Social Media Marketing Services in Abu Dhabi
Social Media Strategy Development
It is an essential part of media marketing, where BrandStory marketing professionals create complete plans. The strategy leverages social media platforms' power to achieve greater goals.
The best social media company in Abu Dhabi, like BrandStory, carves out campaigns carefully, including target audiences and suitable social media channels for reaching the right target audience. A well-curated social media strategy can do wonders in the digital arena. It includes engagement guidelines, crisis response, and community management. It further enhances the visibility of the brand and drives engagement. Further, it also increases the conversion rate.
Content Creation and Management
The brandStory team creates appealing content per the client's needs and requirements. Our team makes up the right marketing content, like blog posts, infographics, articles, videos, and social media posts, to give out to the audience. The team curates the premium quality content and distributes it throughout the social media platforms. Further, the Brandstory team also manages the whole content strategy to make it more streamlined across the platforms.
Social Media Advertising
Social media advertising is a dynamic digital marketing tool that enables brands and businesses to promote their services, products, and content. This can be paid campaigns that are repurposed across social media platforms. Social media advertising allows clients to access rich user data and prompt targeting options. Our team at Brandstory creates compelling and attractive content to generate more leads. The forms of advertising include display ads, sponsored posts, video ads, and more. This increases brand visibility and awareness and boosts conversions.
Community Engagement
Our team can execute community engagement campaigns on all social media platforms. It includes interacting with your audiences while building relationships, trust, and a sense of belonging. The engagement strategy can be responding to comments, participating in discussions, addressing inquiries, etc.
It is seen that when businesses engage with their communities, it results in increased brand loyalty and referrals. This makes your brand's reputation stronger.
Influencer Marketing
It capitalizes on the popularity and credibility of social media influencers. The influencers in this type of marketing are often experts or personalities in their niches. All this helps in forming trust and authority on the audience or followers. Influencer marketing allows businesses to tap into their niche markets that can extend their target audience base. The influencer marketing idea is based on tangible recommendations from trusted individuals who hold considerable significance. Furthermore, successful influencers' collaborators can heighten brand awareness, customer acquisition, and strong product awareness.
Customized Services
The team curates marketing services for all types of unique demands and needs of the clients. This curation offers customized solutions created to meet all the objectives of the businesses. At Branstory, our approach involves understanding the client's target audience and objectives. We create highly customized solutions for every type of business. The process includes carefully selecting the right platform/channel, messaging, and implementing strategies that resonate with the specific channels. By customizing campaigns, we ensure they resonate with the brands' specific needs and requirements.
Why Choose Brandstory Social media agency Abu Dhabi
Our social media agency is well-known for its expertise and result-driven approach to dynamic marketing.
Expert Team
Our expert team consists of social media experts, content creators, and data analysts who work tirelessly to create the best specific brand strategies.
Experience Across Industries
We have a remarkable record of assisting businesses across different industries.
Custom-Built Strategies
We curate unique and custom-built strategies to align with your brand's persona and target audience.
Comprehensive Services
Our team offers comprehensive services, including content creation, management, social media campaigns, paid advertising, etc., ensuring that your brand is made completely visible on online platforms.
Data and Analytics-Based Approach
Our marketing team devises well-rooted strategies in data and analytics. We consistently monitor and optimize campaigns to deliver the best results
Our Process
Set Clear Objectives
Before starting the core process of strategizing, we set up a meeting with the clients.  In this meeting, we closely understand our clients' needs and performance in the current scenario. All this helps in setting clear objectives and a blueprint for strategy formation. We start by outlining the core issues that must be addressed through social media campaigns and further enhancing measures. Setting up precise and clear objectives helps us to create a specific plan for your brand.
Audience Research
It is a crucial component of an effective marketing strategy. The audience research step is mainly about conducting an in-depth analysis and understanding of the client's  target audience's characteristics, behaviors, and preferences. Our team conducts audience research to create specific and detailed customer personas. It further allows for more personalized and targeted efforts by our team. The research includes gathering demographic data, like gender, age, location, and income, with psychographic information, such as buying habits, values, and interests.
Platform Selection
At Abu Dhabi, social media agencies, like Brandstory, take time to select the relevant social media platform for brand representation. The main goal of platform selection is to ensure that our clients invest resources where their audience is most active. This approach increases the impact of marketing efforts, drives good outcomes, and maximizes consumer engagement. Whether it is lead generation, sales conversion, or brand awareness, the social media platform selection step helps in all. We make sure that your company's representation is done most effectively.
Competitor Analysis
The goal of the competitor analysis process is to gain all-around insights into the competitive landscape of the marketing world. Competitor analysis measures include identifying competitors, studying their products/services, assessing their market share, and evaluating their marketing tactics. We use the information to identify opportunities for differentiation, refine our strategies, and discover market gaps. Moreover, competitor analysis helps make informed decisions and develop more effective strategies for achieving market goals.
Content Strategy
Curation of the best content is essential for any effective social media campaign. Our team curates a structured content plan showing how businesses create, publish, and manage content. All this helps in achieving specific marketing and business goals.
Content strategy curation involves deciding what type of content to produce, the target audience, and distribution channels, which will set up the overall messaging and tone for your business/brand.
Data Analysis and Optimisation
In this phase, the Brandstory team examines various metrics and data points generated from our marketing efforts. It tracks website traffic, conversion rates, and other key performance indicators. As soon as data is collected and analyzed, the optimization process comes into play. This phase includes making informed adjustments and refinements to the concerned marketing strategies based on the insights from data.
A/B Testing
A/B testing involves curating two or more versions of any content or social media strategy, like a web page or email. These variations are made to separate segments of the audience and their interactions and responses. Then, these gained insights help in analyzing the marketing strategies. These help in curating specific strategies to drive better results, like click-through rates, higher conversion rates, and engagement levels.
This approach empowers our team to refine our current and digital content strategies, leading to improved user experiences and increased effectiveness in achieving marketing objectives.
Benefits of Social Media
Marketing in Abu Dhabi
In today's dynamic digital age, social media marketing approaches offer several benefits for businesses. It provides a platform for brands to build their business awareness and recognition. All this aids in reaching a broader audience and establishing a strong online presence. Further, it leads to direct customer communication, enhancing engagement, and building relationships.
Social media marketing companies in Abu Dhabi, like BrandStory, also offer targeted advertising options that enable businesses to reach their targeted audiences. It is cost-effective in nature and also provides a higher ROI with real-time feedback. All this adds up to adapting and optimizing strategies continually for the brand's guidelines.
Our Social Media Packages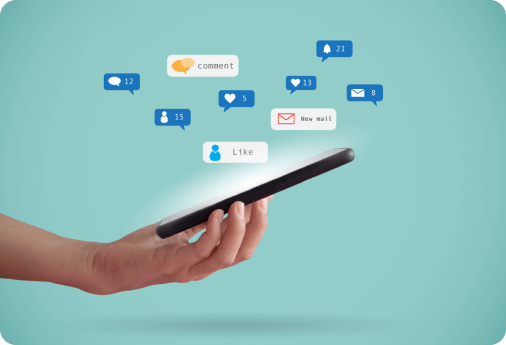 At Brandstory, the social media packages are designed to serve a range of businesses in Abu Dhabi. Our team offers complete customized packages for specific marketing goals and budgets. It does not matter if you are looking for a strong online presence or engaging with the audience, BrandStory social media packages will help with all.
Our packages include developing effective social media marketing campaigns, content curation, posting schedules, community management, and targeted ads. BrandStory expert social media professionals work closely with you to develop the best strategy for your brand that resonates with the current marketing world of Abu Dhabi.
TESTIMONIALS
Our Client Testimonials
"Last year, we needed a team for effective content curation for our growing brand. Someone from the company suggested BrandStory Solutions. We contacted them, and they readily accepted our project. They first understood our needs and requirements for content development and then did their research. Afterward, the proposal deck was shown to us, and we loved it. When the campaign went to the online platforms, it fetched us good ROI and helped our brand awareness. We loved working with them."
Rakesh and Team
"Working with BrandStory was smooth and good. They understand our unique demands and deliver the best and most effective brand solutions. The team ensured that every marketing campaign component was aligned with our brand personas. This contributes to the overall boosting of our services on various online platforms. Collaborating with BrandStory is one of the best things that has happened to us in our marketing journey."
Tisca & Associates
"We hired Brandstory for our startup business, which we started last year, and they did a fabulous job of creating some of the best marketing strategies for us. As my company was new, I needed awareness of all online platforms. Brandstory developed effective strategies for social media, which fetched us with good conversions for our services. I would recommend BrandStory Solutions for various aspects of marketing measures."
Rameshi Builders
FAQ's
At Brandstory, one of the best social management companies in Abu Dhabi, we are equipped with expert members adept in their fields. With a track record of delivering extensive results to our clients, we are fostering good relationships. We help our clients get through everything from creativity to strategizing ad campaigns. Moreover, we also help with other aspects of the marketing domain, like content management and distribution, boosting social media posts, etc.
We curate every type of content for social media marketing. This includes quizzes, polls, video posts, infographics, contests, etc. Brandstory team helps you get the best results with their creative approach and technical expertise.
We specialize in various media platforms, like Facebook, Instagram, YouTube, etc. Our marketing team develops the aligned posts for these platforms. We help your business become more visible in the online community.
Improving your brand's visibility and engagement requires strategic planning. Here are some ways in which BrandStory can help you:
Designing all types of company design elements
Strategizing the effective and impactful content
Development of high-end social media posts
SEO - optimization on both on and off-page
Effective influencer marketing
The brandstory team follows the following steps to connect with the target audience:
Creation of useful and relevant content
Leveraging of influencer marketing techniques
Usage of targeting advertising