Our UI/UX Process
Our exhaustive UI/UX design involves 4 main steps. It is an iterative process where there may be a need to rethink the design decisions after uncovering new insights.
User research is the fundamental step of our UI/UX design process. Research and requirements gathering is performed on a group of users from various backgrounds and demographics to understand if the product will meet the needs of the target audience.
User research is done by listening to users and observing them. Online surveys, persona interviews, questionnaires are a few methods to decipher the user requirement space.
We build user personas of our target audience through online research and web analytics. User personas represent real people, their expectations, universal features, and their interaction with the website.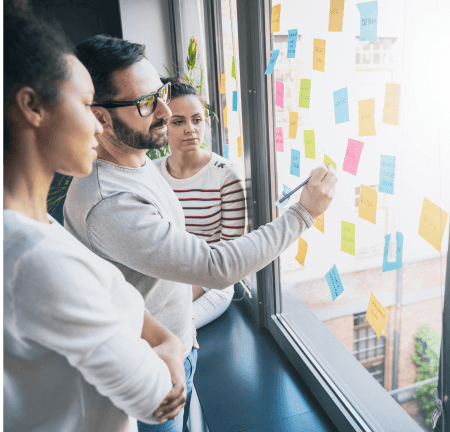 The next step in our UI/UX design process is creation of the prototypes and wireframes.
These prototypes are needed to ensure that the designs are usable and engaging to the users.
Continuous testing and evaluation of the wireframes is a part of this phase.
The mockups are shared with all the stakeholders to get their feedback and inputs.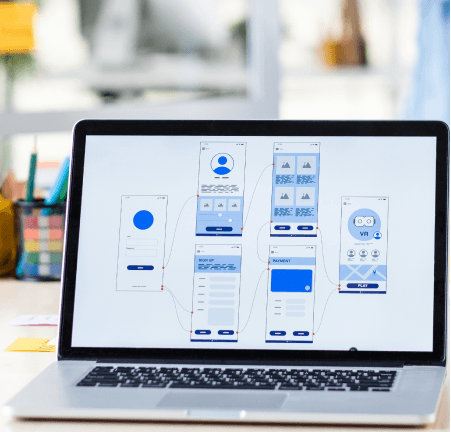 Usability testing is also a core part of our UI/UX design process and is iterative.
Our designers continuously add, improve features in the prototype design phase. Our rigorous usability testing ensures that any problems and shortcomings are eliminated before proceeding to the implementation phase.
Testing is done with real users to get actual results. Our user testing exposes problems that can surface while the user is using the interface, what actions he takes at each stage, and his behaviour or response to your website.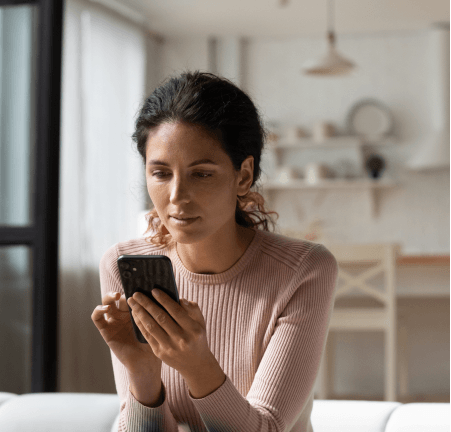 The technical team works with our design team to begin the implementation phase once the UI/UX designs are final.
Our development team works on the backend functionality and then integrates it with the UI from the design framework.
The outcome of this phase will be a fully functional UI/UX interface with complete features and experience.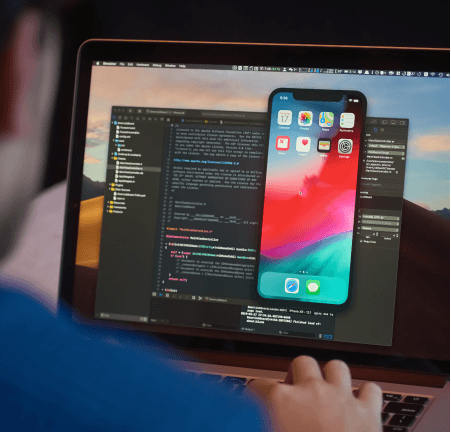 Our team of design experts evaluates the developed interface on various factors such as usability, ease of use, flexibility to scale, ability to provide the desired solution and the experience it presents to the end-user.
The team validates the design in terms of information flow and identifies areas that need improvement.
The UI/UX design process is iterated until user satisfaction and the desired experience is achieved.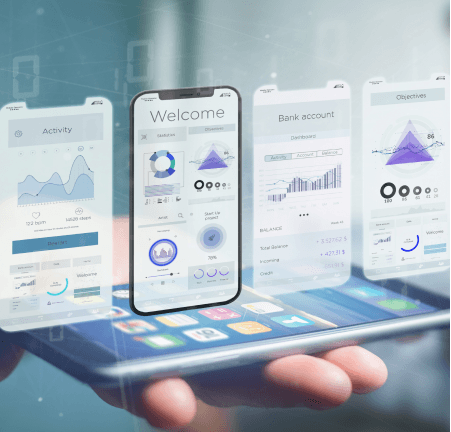 UI UX Design Company in Ras Al Khaimah
At our UI UX Design Company in Ras Al Khaimah UAE, we work hard to create functional UI/UX designs that align with the business goals. Each aspect of the design is conceived with the end user in mind and everything that affects the user becomes a part of our design process. Our clear-cut, intuitive, and scalable designs strive to capture the user's attention and enhance his browsing experience.
In the competitive digital online space, all businesses are beginning to realize the significance of a robust user interface design to catch the eye of the target audience. UI/UX designs must establish the identity of the brand and engage the users simultaneously. A well-thought-of user experience design can make or mar the reputation of the application and the brand.
About Us
As a leading UI/UX Design agency in Dubai with over 15 years experience in UI and UX design, we bring you well-crafted design services that can bring your ideas to life and make your app stand out. Our designs are personalized and crafted to suit the diverse needs of our customers.
Our UI/UX design experts work closely with our clients to understand their business and their customers. User research is the foundation of our UI/UX design. Our UI/UX designers will perform elaborate market research to understand market trends and end-user behaviour.
Data analytics is a primary part of our design process. Our ui/ux designers will use the market knowledge along with the appropriate tools and technology to offer top-notch design services to our clients.
Our ui ux deveopment companies in Ras Al Khaimah have delivered cutting-edge user experience designs to some of the leading global brands. We adopt user-centered design methodology that guarantees maximum usability and efficiency. Our researchers, design engineers and technology experts collaborate to create inspiring and contemporary designs. Our solutions aim to solve the day-to-day problems of users through flawless UI/UX design.
Ras Al Khaimah UI/UX Design Services
Our comprehensive UI/UX design procedure is a result of a deep understanding of the users needs and expectations. Our state-of-the-art design procedures follow the best UI design standards where form and function go together without any compromises. Our team of ui/ux designers prioritize functionality and consistency in design over other factors, thus delivering an end-product with long-term value.

Our ingenious designs and technological expertise have made us one of the most sought-after UI/UX design services in Dubai.

We have designed effective user interfaces for a wide array of clients in various sectors securing us the position of one of the leading UI UX design companies in Dubai. Our unique UI/UX interface designs have helped our numerous clients create brand awareness, build brand loyalty, widen customer base, cut down on costs and generate revenue for their business.

Our creative design mechanism is highly flexible and can adapt to the requirements of any client or business. Our ui ux company in dubai will strive to understand the business goals and specifics so that we can design innovative and productive solutions for your customers that surpass their expectations.

Our team of qualified ui/ux designers in Ras Al Khaimah are continuously trained to keep abreast with the latest trends and technology in UI/UX design. We have retained our position of being one of the top UI/UX design studios in Ras Al Khaimah by offering our clients enhanced services through constant innovation.
Other UI UX Design Service's Location